The Coyote Project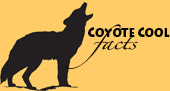 Winter is courtship season.

Coyotes can mate for life.

You may see and hear them more often during winter and fall.

It is not uncommon for a coyote to be more curious about your dog during breeding season.

Get the Coyote News fact sheet for more facts, tips & tools – and share widely!
"Nothing will be well until we learn to live in harmony with the power of the world as it lives and moves and does its work."
~Chief Black Elk